Read below for information from Samantha's Harvest about their upcoming golf tournament!
Charity Golf Tournament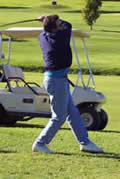 The Samantha's Harvest Charity Golf Tournament is our largest event to raise money for charities that are near and dear to our cause. Played in the splendid month of September, our golf tournament is an event you'll mark on your calendar year after year!
The tournament is an 18-hole, scramble format with a shotgun start. Prizes are awarded for the top three finishing teams. There are also raffles, a very entertaining live auction with host and Boston's premiere comedian Tony V. presiding, and a silent auction with dinner.
There are several ways to contribute. The first, and, of course the most enjoyable, is to join us on the golf course. You can also sponsor the tournament in any number of ways. Each sponsor is recognized with signage. We also gladly accept donations or prizes for the raffle. Anything you can offer (big or small), sports related or not, is appreciated. Volunteers for the day are always welcomed.
If you have questions about the upcoming golf tournament, contact Rob or Lisa at 781-354-0544 or golf@samanthasharvest.org. The tournament will be held at the Thomson Country Club in North Reading, MA.