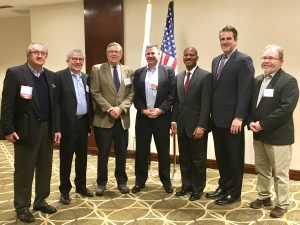 On Wednesday January 24th, Commonwealth of Massachusetts Housing and Economic Secretary Jay Ash spoke at the monthly New England Business Association (NEBA) Breakfast.
Among the topics covered was the frequency of calls he receives from businesses outside Massachusetts looking to move into Boston and specifically to the "Seaport District" and Cambridge. The Secretary termed these areas as "White Hot".
Hurtling job numbers in the thousands per phone call and with Amazon lurking in the background; an advertised goal of 20k additional jobs supports nothing but continued job growth for the New England economy.
Among guests captured in this photo are Ed Ostrowski, NEBA Board Treasurer, Larry Nannis, Past NEBA Board Chairman, Brendan King, NEBA Board Secretary, Karim Hill, NEBA President and Secretary Jay Ash.