Work place culture plays a huge role in keeping employees happy, productive, and consistently growing and improving. But creating a positive, welcoming work environment goes beyond chemistry and good attitudes. Companies can and need to take real efforts to make their offices to best places to work.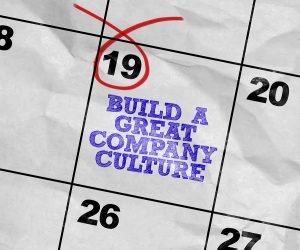 Consistent and open communication: As Hongkiat notes, staying in contact with employees and giving them plenty of information gives them a better understanding of the company's goals and expectations. The result is that employees are better informed and more motivated.
Flexibility: Finding the right work-life balance stresses out employees. Inc suggests offering flexible hours and a telecommute option. Employees will appreciate even a mild reduction in the conflicts of life and work.
Know your employees' strengths: Good companies magnify their employee's strengths, from the top performers to those struggling. Playing to their strengths puts them in effective roles in key situations, and helps them grow. Grooming talent within your company will also pay dividends down the road when it comes to filling in leadership roles.
Sensible Structure: A good workplace structure is also important. At the end of the day, employees are expected to be happy working in a structured, often hierarchical or bureaucratic environment. No one likes red tape or too many rules, but it's worse when those rules are haphazardly enforced, or unevenly distributed, or simply unclear from the start.
Additionally, many agree that showing your employees that their daily tasks actually matter, and aren't just busy work, can have a huge impact on their attitudes. They'll feel more fulfilled in their work, and happy employees means a positive culture. Just don't make them feel valuable—show them they matter. And be sure to notice their successes along the way, as a little recognition goes a long way.